Multi-Network Smart Radios
Seamless Smart
Two-way Radio Roaming
We Offer Smart Roaming With MOTOTRBO Ion Two-Way Radios
Seamless Roaming on the MOTOTRBO Ion. Automatic switching between networks ensures uninterrupted push-to-talk communication while on the move. Perfect for delivery truck drivers or anyone needing instant communication while off-property.
The MOTOTRBO Ion Smart Radio is the first MOTOTRBO device that combines the instant and reliable voice communication of a radio and the broadband data capabilities of a smartphone. 
With the ability to leverage both of these networks on one device. Motorolas' engineers were able to develop the seamless roaming capability. This feature allows the Ion radio to automatically switch between land mobile radio networks and broadband networks to transmit voice communications based on the best available signal.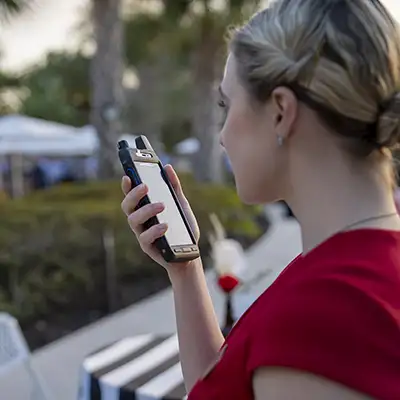 This is made possible by the multi-network functionality of the MOTOTRBO Ion and leveraging our WAVE PTX platform. This means that as a radio leaves a radio network, whether on a vehicle far away from its home network or moving between facilities on a property. 
Users can be assured that their push-to-talk communications will go uninterrupted. This is especially useful to users who need to maintain instant communication but are not always on a single property or at a location that has radio network coverage. 
Custom Communication Solutions
We've designed, implemented and managed small and large installations for a wide variety of clients.
From local school districts and transportation companies to global technology leaders